Limewash has been around forever as an alternative to just painting your brick home. It is a paint that is made up of lime and rather than like normal paint that just sits on top, it penetrates the brick itself.
Regular Brick Painting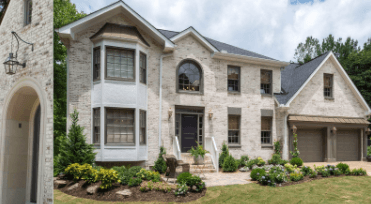 Regular paint on bricks actually forms a barrier on top of the brick. I requires regular upkeep and can actually trap moisture inside the bricks. It is also prone to peeling unlike limewashing.
What is Limewashing?
Limewashing does more than just restore the look of a brick surface. The lime in the paint actually penetrates the brick and will not peel off over time like regular paint. Limewash lets the brick breathe and will not trap moisture within the brick surface.
Benefits of Limewashing
Limewashing does not necessarily put an even coat of paint on the surface. Instead it tends to be somewhat splotchy. This can help to create a rustic look on the brick surface. It is also low maintenance compared to regular paint that needs to be washed on a regular basis.
Limewash does not require any maintenance and would only need recoating after five years or so. It is also eco-friendly, non-toxic and hypoallergenic. Since it sinks into the pores, the natural texture of the brick remains intact.
Jose's Painting and Remodeling has been serving Marietta and surrounding areas for over 25 years. Limewashing brick surfaces is one of our specialties when it comes to making your home look fresh again. Our superior craftsmanship and materials we use will give you the appearance you have always wanted. If you have any questions about limewash painting, just call or contact us and we are more than happy to assist you.