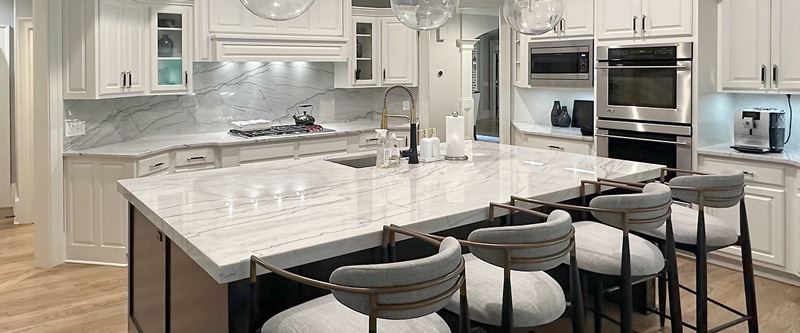 PAINTING VS REFACING
Are you tired of your outdated kitchen cabinets but don't want to spend a fortune on a complete remodel? Cabinet painting and cabinet refacing are two popular options that can give your cabinets a fresh new look without breaking the bank. But which one is the best choice for your home? In this blog post, we'll explore the pros and cons of each option to help you make an informed decision.
Cabinet Painting
Pros:
Cost-effective: Painting your cabinets is generally less expensive than refacing them.
Customizable: You can choose from a wide range of colors and finishes to create a unique look that matches your style.
Quick turnaround: Painting cabinets usually takes less time than refacing them, so you can enjoy your new kitchen sooner.
Cons:
Limited durability: Painted cabinets are more prone to chipping and peeling over time, especially in high-traffic areas.
Limited options for damaged cabinets: If your cabinets are severely damaged or have structural issues, painting may not be a viable option.
Cabinet Refacing
Pros:
Durable: Refacing involves replacing cabinet doors and drawer fronts with new ones, which are more durable than painted surfaces.
Customizable: Like painting, you can choose from a variety of colors and finishes to create a unique look.
Can address structural issues: Refacing can also address issues like warped or damaged cabinet frames.
Cons:
More expensive: Refacing is generally more expensive than painting, especially if you choose high-end materials.
Longer turnaround: Refacing can take longer than painting, especially if you have custom cabinets or complex designs.
Limited options for layout changes: If you want to change the layout of your cabinets, refacing may not be the best option.
So, which one should you choose? The answer depends on your specific needs and budget. If you have severely damaged cabinets or want to change the layout of your kitchen, refacing may be the better option. However, if you're looking for a quick and cost-effective way to update the look of your cabinets, painting may be the way to go.
At Jose's Painting & Remodeling, we offer both cabinet painting and cabinet refacing services to meet your needs. Our team of experts can help you choose the best option for your home and provide high-quality workmanship to ensure your satisfaction.
Contact us today to schedule a consultation!